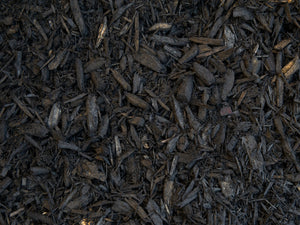 Description:
The black landscape mulch is made from 100% recycled wood that is air-dried. This process closes down the cells in the timber, which reduces its ability to hold water and thereby slows down the decomposition rate. It is totally safe. The colour is created with oxide colourants, which are non-toxic and therefore safe to humans, animals and plants alike
Grades/sizes:
Standard ornamental chip
Features and Benefits:
Encourages microbial and worm activity

Helps to protect the root system

Renewable resource

100% Organic

Helps maintain even soil temperature year round
Commonly used for:
Garden cover to enhance and contrast plants and building designs that provide a very attractive effect.
CLICK HERE TO USE OUR PRODUCT CALCULATOR